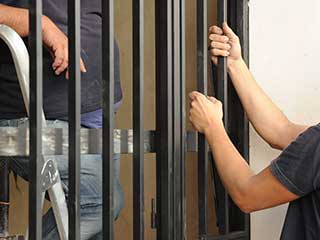 If you decided that it's time to replace your old rickety wooden gate, or to have a completely brand new one installed, our team can help. Our company has a long track record of helping local home and business owners with the installation of new automatic gates, and our experts would be more than happy to consult you on the different features that are worth investing in, as well as on what type of material and mechanism would best suit your needs.
Wood, Steel, and Iron
The aforementioned three are the most popular choices for new residential and commercial gates. Each material brings different attributes and potential maintenance requirements. Wood has a certain classic appeal, but it can rot and warp if it isn't properly repainted annually. A wrought iron gate holds a similar allure, but it too needs frequent maintenance. It also provides more security, but given that it is constructed in the form of ornate bars, it doesn't provide much privacy. A steel gate can be en entire moving slab, which means privacy would be optimal. However, that also means that it will be far heavier, and will require an opener capable of generating enough horsepower to move it.
Choosing The Best Type
By best, we mean best suited to your needs. A swing gate, as its name suggests, swings outwards or inwards, meaning it requires a certain amount of available space in front of or behind the driveway. A sliding gate moves laterally, so the width of the area is what counts. If your property is right next to a street, then a sliding system might be preferable. Of course, some say that a swinging wrought iron gate is more luxurious than, say, a sliding steel system, so the decision ultimately comes down to preference and space availability.
Installation Done Right
Our technicians can help you with more than just the decision making process. Our team here at Gate Repair Escondido can complete the installation of your new system for you and make sure that it is in great shape and fully functional from day one. Get in touch with us today to learn more about our custom made gate options.
Want more? Let us take care of:

Gate Motor Repair

Gate Opener Service

Automatic Gate Troubleshooting

Linear Gate Intercoms