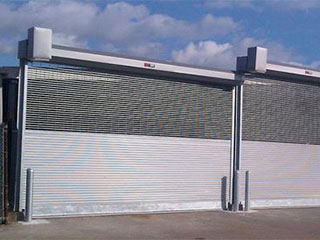 One of the best ways to ensure security for your business' property is with a gate so you know who's coming and going at all times. However, your gate is no longer helpful if it isn't functioning like it's supposed to! If you've noticed troubles with it such as getting stuck or noisiness, it's time to call our experts. Our team works quickly and efficiently so you won't have to worry about our services slowing things down for ages, and will last for a long time!
Sturdy And Reliable Gate Alignment
In order for your gate to close and lock properly, it has to be correctly aligned so the gate door shuts securely. However, over time your gate can start to shift (even just slightly), which causes it to have issues with closing, staying shut, and locking. Our professionals will inspect the system to find where the issue resides and carefully get your gate realigned so you can count on it to close and lock safely and keep your company's property safe!
Quick Intercom Repair Services
An intercom is essential for being able to communicate with people coming and going from your business' property and assuring that you're always aware of what's going on. If you've been dealing with issues concerning your intercom cutting in and out, being unable to understand the person on the line, or it not working at all, let us know! Our company uses the best tools available to repair or replace any parts needed to get your intercom clear and functioning again in no time.
Track Repair You Can Count On
The tracks of sliding gates are what allow it to slip open and closed easily, but may become damaged over time or rust from the elements. Should you find that your gate seems to get stuck or struggles to move along the track, the track itself may need repairs. Our team will handle it for you right away!
Call Us Now
Contact Gate Repair Escondido today to learn more! Our experts are ready to help.