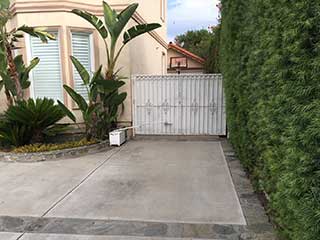 It's important for us to highlight some of the best advantages of having an automatic driveway gate as opposed to a manual one. If you never thought about the possibility of getting one, these systems are becoming increasingly popular with every passing year, and more widely available than ever before. Now is a great time to have one installed in order to enhance the security, privacy and curb appeal of your property.
Great for Safety
All modern automatic gate openers come with sensors that detect oncoming collisions and stop the system from hitting the object or person in its path. This can be great if you have pets or children around the house that like running around and aren't fully aware of their surroundings at all times. With an electric gate, all users can simply keep their distance and operate the machinery with the risk taken completely out of the equation.
Convenient and Impressive
Whether you have a sliding gate or a swinging variant, having the option to control it remotely is incredibly convenient. You'll never get caught in the rain again, you'll simply press a button and watch your driveway gate open for you and close after you. In fact, the classic remote controls and quickly becoming obsolete, as today's modern models offer owners the option to use their smartphone to control the system. With an intercom system added on top of that, you'll have the ability to welcome guests by opening the gate from within the comfort of your house, or from anywhere in the world with Wi-Fi.
Increase Your Property Value
Many people will purchase an electric gate opener thinking of it as an investment rather than an outright cost. This is because it is possible and very likely for such an installation to increase the value of your property. Many modern buyers are looking for the technology, convenience, and grandeur that comes with an automatic system. Many of your neighbors are likely to already have electronic gate openers installed, so you can even ask them what a difference this device makes.
Expert Electric Gate Repair
Of course, as is often the case with all complex electro-mechanical systems, some problems can arise from time to time. When quality parts are used, and a proper maintenance routine is followed, those incidents will be few and far between. Still, some issues can be unavoidable, especially when it involves physical damage to the gate itself. Whether you require welding work, panel replacement or troubleshooting services to root out the problem with your electric opener, you can rest assured you're already on the right website. From installation to emergency repair services and more, Gate Repair Escondido is at your service.