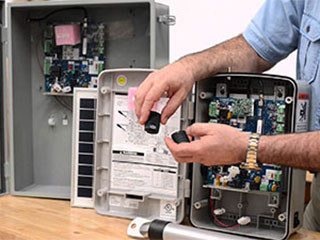 The frustrating thing about driveway gate malfunctions is that it can be very difficult to tell what's causing the problem. While many issues require professional training to identify, there are some common ones that a layperson can easily learn to recognize.
How Has The Weather Been?
Many of an opener's internal components are made of metals and plastics that can expand or contract just enough to cause jamming and other issues when the weather is very hot or cold. If your gate starts having trouble shortly after a major temperature change, thermal deformation is likely the culprit; consider upgrading your opener's insulation. Of course, that's not necessarily the cause, and there are other things that need to be checked before giving the verdict.
Check The Power Supply
All too often, a "gate malfunction" turns out to be caused by the opener coming unplugged, the electrical outlet it's plugged into burning out, or something as simple as dead remote control batteries. Check the power connections, and test the outlet by plugging something else into it to see if it works. If the opener's power cable is exposed, you can also check along its length for tangles or tears; if you find any, you may need a new extension cord. Of course, don't forget to replace those batteries to rule them out first.
Test The Sensors
If your gate is opening inexplicably, or refusing to close, it's very likely that your safety sensors are at fault. You can test this by waving something in front of the sensors and seeing if this causes the gate to open, or if it reverses while trying to close when you do this. It should reverse, as it prevents it from hitting the obstacle the sensors have detected. But a common problem is a gate that reverses when there's nothing in its way. This also involves the sensors usually, and adjusting their alignment or replacing them will probably be necessary.
Remote Control Issues
If your gate isn't responding to the remote controls, but otherwise seems to be working fine, then the problem is likely with either the handset or the opener's reception. Try using the remote control from a much closer distance; if that works, then either something nearby is generating signal interference, or damage to the opener's antenna or the handset's transmitter has limited their effective range.
Local Experts Near You
These are just the tip of the iceberg when it comes to driveway gate repair solutions and troubleshooting tips. You can learn more by checking out our other blog posts, or by getting in touch with Gate Repair Escondido directly via phone or our online scheduling system.