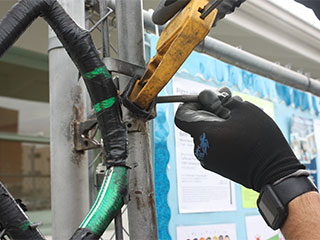 Your property's gate is an essential part of keeping your home safe and secure. The same goes for commercial properties. This system provides convenience and reliability, but there are always things that can go wrong, and you need to know who to contact when they do. No matter what type of system you have, or what materials it's made from, our team is ready to provide you with a fast and long lasting solution to any problem.
Metal and Wooden Gate Repairs
The many different materials that automatic gates can be made of means the range of different problems that can arise is quite extensive. Wooden panels can rot and warp, for example, while metal ones may become corroded and parts of them will need to be lubricated to reduce friction and noise. Thanks to our many years of experience, Gate Repair Escondido is able to offer the same high level of service and results for all materials.
Repairing Different Types Of Systems
Just as there are many different materials automatic gates can be made of, there is also a wide range of different types of systems that exist today. Broadly speaking, these are swinging, roll up and sliding gates. Of course, each system has many different varieties and that makes identifying core issues a challenging task when problems rear their ugly heads. Rest assured that by contacting us you're getting in touch with the best gate repair technicians near you, and our technicians have all the necessary skills to fix any problem.
Solving Intercom System Malfunctions
A gate that you have to physically go to each time somebody arrives isn't really all that helpful. That's why malfunctioning phone entry systems can be exceptionally frustrating, and need to be repaired as quickly as possible. Our technicians offer comprehensive repair services for all types of intercom systems, including replacement components and even the installation of new units. If you're having difficulty with your gate intercom, don't hesitate to get in touch with our team.
Don't Wait – Let Us Repair Your Gate
A malfunctioning automatic gate makes your property less secure, less safe and less convenient to go to and from. If you encounter any issues with your system, don't hesitate to reach out to us to have our experts quickly troubleshoot and solve the problem for you.
We also take care of:

Rollup Gates

Elite Gate Opener

Phone Entry Systems

Automatic Gate Repair