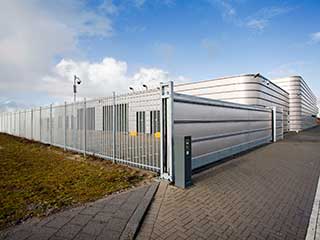 Your property's gate is the first line of defense against unwanted intruders. Choosing the right system for your needs is key to ensuring the security of your home, and seeing as there are many different options to pick from, it's worth your while to take some things into consideration before deciding.
Security Swing Gate Systems

Single swing gates are more secure than double door systems. This is because the central position where both leaves meet provides additional leverage for anyone trying to gain access. However, if your system is fitted with magnetic locks, or a hydraulic rail drive, this design can still be exceptionally strong and hard to circumvent.

Sliding Gate Security Systems

Perhaps the most secure type of system is the sliding design, which presents no weak points to potential intruders. Because the gate locks into place without hinges, there is no way to gain additional leverage; intruders will struggle to simply force it open. When fitted with an internal solenoid lock, a magnetic locking system or a hydraulic rail drive this type of design is extremely resistant. However, a simple chain drive gate can be more easily cut and provides less protection.

Your Choice Of Materials

The materials your system is made from determines how well it will resist forcible entry. The best choices here are wrought iron and steel; they're both extremely strong, but wrought iron is very expensive and tends to be heavier. Also, bars, which this type of material is usually fashioned into, provide less privacy than complete panels. Steel is much more common, and with good reason - it's very tough, and provides excellent protection. Aluminum gates are far less resilient, and the softer metal can be more easily bent, however, it doesn't require special maintenance to prevent it from rusting the way steel and iron do. Wood is a tough material, too, although it depends on how thick the panels are and exactly which type of wood is used.
Get Help From The Experts
Ensuring your new security gate suits your needs is essential, and if you're not sure exactly which one is right for you, our technicians are ready to offer you some in-depth advice. If you're looking for local experts near your location, look no further than Gate Repair Escondido.